The BSR-Exclusive Wouxun KG-UV9G is a 999 channel programmable dual-band handheld analog double-conversion superheterodyne FM GMRS two-way radio transceiver with wide 7-band receive range, TDR (true dual receive), repeater capability (with CTCSS/DCS split-tones and non-standard PL tones), and pro features ideal for families, scouts, SHTF preppers, survivalists, over landers, truckers, businesses, or EmComm emergency communication groups. It has 2.5 kHz tuning steps and comes custom pre-programmed with 876 channels for GMRS + SHTF* (ships with Tx locked to GMRS band for Part 95E compliance), for dual-use GMRS transceiver & analog FM scanner operation. User programmable with free downloadable Wouxun programming software (link above – requires optional USB cable & x86 Windows 7, 8, 8.1, 10 or 11, or a Mac running Parallels) or the RT Systems UV9D Advanced Programming Software & USB Cable Kit.
With up to 5.5 Watts of power (on UHF) and a talk-around range of 2 to 7+ miles (much more when used with a GMRS repeater or at optimal elevations with minimal line-of-sight obstructions), the KG-UV9G provides reliable recreational or emergency radio communications for personal disaster preparedness, family outings, scouting, prepping, survival, camping, off-roading, trekking, business operations, Neighborhood Watch, REACT, CERT, Guardian Angels & EARS groups to keep in touch when other methods of communication break down. IP55 rated and Part 95E & 15B FCC Certified. The UV9G is custom power calibrated for GMRS simplex & repeater use (at a 465 MHz center) and transmits on all 30 GMRS frequencies with the proper legal power and modulation bandwidth.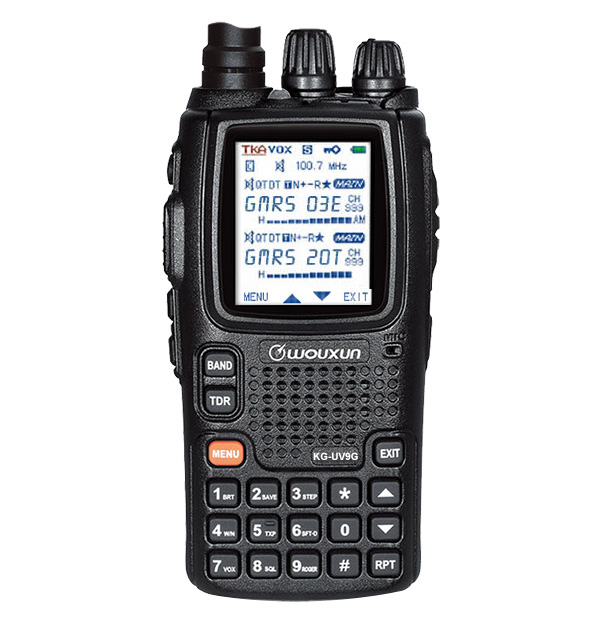 The UV9G comes pre-programmed with 5 ready-to-use banks of GMRS channels, including 1 full GMRS bank (with repeater channels), 3 additional banks of repeater channels, and a full "FRS" bank to better facilitate communicating with FRS and older hybrid FRS/GMRS radios (with PL/privacy tones set). You can easily change the PL/Privacy Tones (or DCS Codes) from the front panel on any of these 76 pre-programmed channels. This is handy when you want to program in all the available repeaters in 4 geographical areas without having to re-program on the fly every time. Due to FCC GMRS and radio firmware restrictions, the repeater direction and offset features can't be programmed from the front panel, which is why I provide the 4 pre-programmed repeater banks. However, the 9G can be easily re-programmed via software to add as many GMRS (or other) channels as you desire, or many more repeater banks that you can then customize on the fly. You can also copy any existing repeater channel and write to to another memory channel, then change your PL tones, creating as many new repeater channels as you wish, in the field. You could use all 999 channels to program 124 banks of all 8 repeater channels, if you wanted to. Or, turn the radio into an all-receive scanner. It's totally up to you!
Note that when the UV9G is reset using the [MENU_61 "RESET"] function, the radio will reset to a default configuration of all 30 GMRS channels, including the 8 repeater channels, which you can then customize the PL/Privacy Tones on as desired. If you ever find yourself in an emergency situation and need to restore basic GMRS functionality quickly, this reset feature will get you there in a few seconds. Note that performing this RESET will wipe all pre-programmed SHTF channels, so make sure you have a backup of the programming before resetting the radio.
The KG-UV9G operating range is as good or better than any other affordable Commercial/Ham or GMRS radio, even with its included high-gain stock flexible antenna, which is better than most radios in this price range (and above). As well, with an after-market high-gain duck, whip, telescoping, roll-up, mobile mag-mount or base station antenna, you will see a significantly improved talk range, even when communicating with another stock handheld. Using the Wouxun KG-UV9G PRO GMRS with a repeater will greatly extend your potential operating range, even as far as 100+ miles.