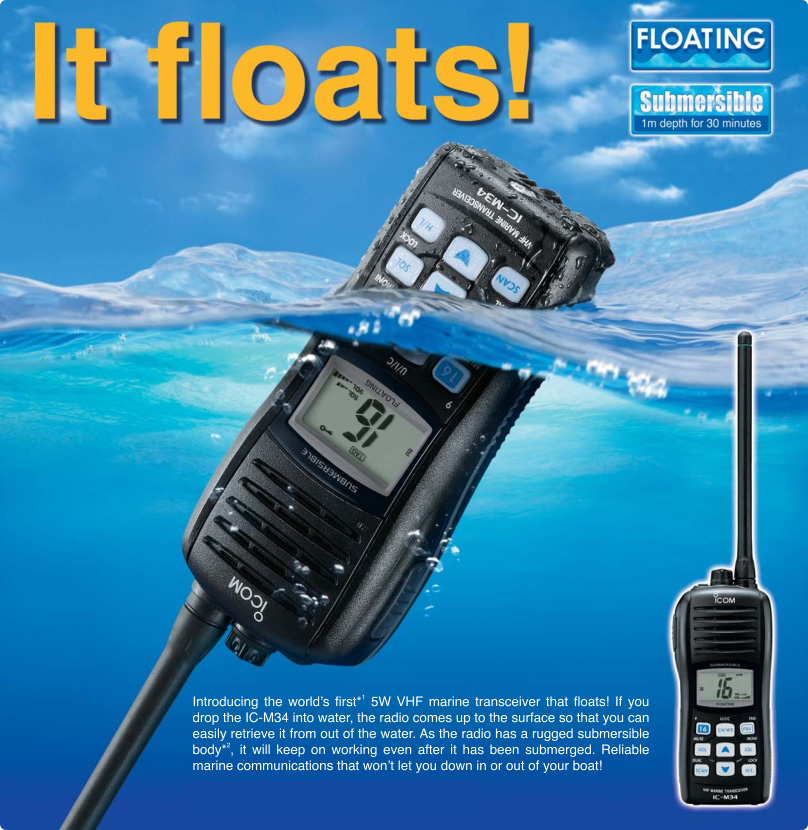 AquaQuake draining function
The vibrating "buzz" sound clears water away from the speaker grill.
Easy to see LCD with large channel indication
The IC-M34 has an easy to see LCD (32 × 16 mm; 11⁄4 × 5⁄8 in) with large 2-digit channel number indication. The volume and SQL levels are shown in the display. LCD and key backlighting is standard for night
time operation.
Easy to use, easy to hold
9 large buttons on the front panel provide simple straight forward operation. It weighs only 305g, and the IC-M34's easy-to-hold rounded body fits comfortably in your hand.
Quick channel selection with favorite channel function
The favorite channel function offers quick channel access to tagged channels by pushing the "FAV" button, while ignoring untagged channels.
Li-Ion battery and charger standard
A Lithium-Ion battery pack and battery charger are supplied as standard. The BP-252 Lithium-Ion battery pack provides 9 hours* of operating time.
* Typical operation with Tx (Hi): Rx: standby=5:5:90
Optional speaker-microphone, HM-165
A new waterproof speaker-microphone, HM-165, is optional. It uses a waterproof, screw-type connector to the IC-M34 and still allows the IC-M34 to float when connected.
Other features