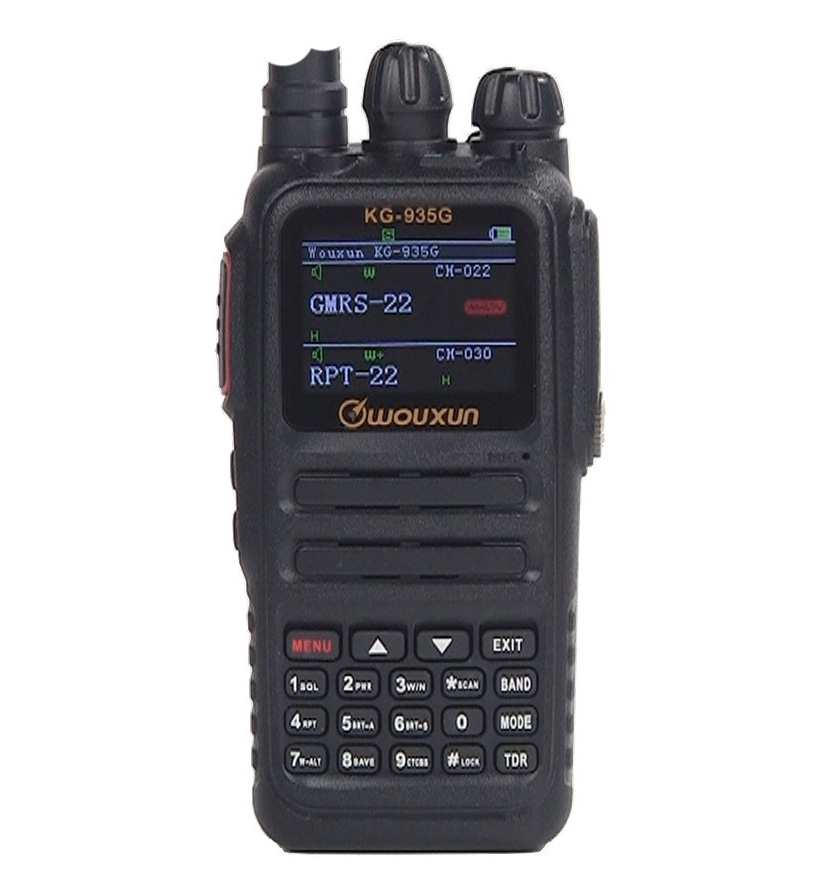 The KG-935G transmits on the 15 high powered GMRS simplex channels, 8 low powered simplex channels and all 8 GMRS repeater channels at up to 5.5 watts of power, with no special programming needed. It has dual receive capability on both UHF and VHF bands, a built-in NOAA weather Mode with weather alert, and an FM radio mode.
The KG-935G has 999 custom programmable channels with standard and non-standard CTCSS tones and DCS codes to eliminate unwanted interference. It also supports split tones and CTCSS/DCS tone scan! The KG-935G makes it easy to find and configure tones and codes to match existing radios in your group.
Of course, there are also the standard features usually found on other GMRS handhelds, such as channel scan, timeout timer, roger beep, button beeps and VOX, but that's just a given. The KG-935G goes way beyond all that by adding more advanced features such as Priority Channel Scan, Group Scan, channel and frequency modes, Busy Channel Lockout, three selectable power levels, selectable wide and narrow bandwidth, group call, all call, selective calling, English voice prompts, programmable function keys, and even a built-in stopwatch.
The KG-935G also has a large, full color dual channel display with four display color themes. It can display one or both A and B areas of the radio, as well as channel names, numbers or frequencies, plus incoming caller ID.
In addition to the advanced display, the KG-935G features a full DTMF keypad, TX and RX LED indicators, two programmable side keys and a built-in flashlight. The keypad is also backlit for easier operation in the dark.
As for durability, this radio is way beyond the typical consumer grade GMRS bubble pack. The KG 935G is rated IP66 for dust and water protection, which means it can take most outdoor elements with ease! It has complete protection against contact with dust, and can take water projected from any direction in powerful jets from up to an 12.5mm nozzle. That's a lot of force. With that kind of protection from the elements, the KG-935G is ready to take on your next adventure outdoors.
KG-935G Features
30 GMRS Channels
8 GMRS Repeater Channels
Up to 999 Custom Channels
136-174.995 MHz Receive Only VHF Frequencies
400-479.995 MHz Receive Only UHF Frequencies (70cm)
NOAA weather Channels
NOAA weather alerts
Tune Specific Frequencies Directly (Frequency Mode)
Simultaneous Dual Channel Receive
Repeater Capable
5.5 Watts Maximum Transmit Power
FM Radio
Standard and Non-Standard CTCSS/DCS Tones
Split CTCSS/DCS Tone Support
High/Med/Low TX Power Levels
Channel Scan
Priority Scan
CTCSS/DCS Tone Scan
Scan Group Support
Wide/Narrow Bandwidth Selectable
Large Color Backlit LCD Dual Display
4 Display Color Themes
Channel Name, Number or Frequency Display
Incoming Caller ID Display
Volume Display
Backlit Keypad
Companding
Descrambler
DTMF Encoding and Decoding
Group Call, All Call and Selective Call
Timeout Timer
Audible Button Beeps
English Voice Prompts
Transmit Overtime Alarm
Scan Add/Delete
Busy Channel Lockout
Battery Meter
Low Battery Alert
Power Saver
VOX
2 Programmable Function Keys
Stopwatch Timer
Keypad Lock
Built-in Flashlight
Li-Ion Battery Pack (3200mAh)
Rechargeable Battery Included
Battery Charger
IP66 Waterproof
PC Programming Support
Drop-In Charge Capable
Audio Accessory Connector
Factory Reset